Skills Covered
Overview
KEY USPS AND CERTIFICATION DETAIL -
Amass subject-matter knowledge

Recognizing Python's general usefulness and how to use it to its advantage has allowed candidates to form opinions on the relevance of the Fundamentals of Python, which learners may easily learn with the Python Training Facility in Jaipur.

Dwell in the framework's depths.

Our Python Coaching Classes in Jaipur attempt to clarify the basics about Python ensuring the learners are capable of utilizing Python while dealing with particular linguistic terminology.

Offer a diverse range of opportunities

Our Python Training Institute in Jaipur provides learners with expertise in various services, allowing individuals to make use of all the services as well as build a promising career.

 
Benefits of Python Training in Jaipur
PYTHON FUNDAMENTALS & KEY FEATURES -
Python Certification Training in Jaipur is the best place to get accreditation, which is useful for managing complicated topics like scientific computing. Professionals use coding substantially to understand the complexities of computer science. Artificial intelligence includes an area of computation that works on rising operations that necessitate the use of a programming interface to understand communications as well as for instructions. Python Course in Jaipur for Data Scientists is by far the clearest and most intuitive application that is simple to master and also enables machine learning tasks to be methodical and intuitive.
The Python Coaching center in Jaipur also offers entity training, which is also excellent expertise that could be added to a student's resume. Businesses generally always want to recruit personnel that are knowledgeable about most of the current technology breakthroughs regarding software programming. As a result, mastering the Python programming language could boost the overall odds of landing a professional future within the IT area.
PYTHON - COURSE OUTLINE -
Python Course Training in Jaipur is delivered methodically by academic staff that are specialists in their relevant domains. The online lessons are delivered using the best interfaces, allowing learners to utilize the programs with minimal difficulty. Tech conferences, as well as questionnaire sessions, are frequently conducted to pique students' curiosity throughout subject topics. Students would love our participatory sessions, as the utilization of visuals with intelligent lectures would pique their interest in learning more declarative programming intricacies.
WHO SHOULD ENROLL IN THIS COURSE?
Students who seek to understand the development of programming languages, as well as similar learning principles that will be important in the IT sector, must opt to study at a Python Training Institute in Jaipur to fully appreciate the subject and then acquire the essential abilities.
WHY WILL THIS COURSE CHANGE YOUR CAREER?
The Python Course in Jaipur primarily concentrates on the fundamentals of the course while attempting to add real-world Python programming software utilities. Therefore, in this manner, the trainees can address the actual programming challenge with more ease. Python Training institute in Jaipur can also be used in several technology areas. For instance, assuming the applicant is fluent in Python, he may be able to manage courses such as computer analytics or device computing issues. Our purpose at the Python Coaching Classes in Jaipur is to educate students to build a fantastic and lucrative career for themselves.
The Python Coaching institute in Jaipur focuses on teaching learners regarding Python's features as well as coding in the language. Within well-plus elevated facilities, learners are also educated to construct their programming languages. Students are indeed given the option of learning the program through video courses and seminars taught by AP2V professors. The Python Training Institute in Jaipur holds live lectures to allow learners to join classrooms online anywhere throughout the nation without needing to deal with the hassle of cloud computing on university premises.
TOP COMPANIES HIRE PYTHON SPECIALISTS
Coding languages and machine learning, for example, are key challenges in today's IT field, and you need to grasp how to deal with the complexities of the difficulties. Python Training in Jaipur enables pupils to effectively complete the machine learning technique and supports candidates in obtaining a good job.
 
Upcoming Batches
Oct 01

SAT & SUN Weekend Batch

Filling Fast

Timings - 09:00 AM to 11:00 AM

Oct 15

SAT & SUN (6 WEEKS) Weekend Batch

Timings - 01:00 PM to 03:00 PM

Oct 03

MON & FRI (6 WEEKS)

Filling Fast

Timings - 09:30 AM to 10:30 AM

Oct 17

MON & FRI (6 WEEKS)

Timings - 05:00 PM to 06:00 PM
67% OFF Expires in D H M S

Can't find a batch you were looking for? Contact AP2V Learner Support
Loved reviews? Enquire Now
Structure your learning and get a certificate to prove it
Python Training in Jaipur Curriculum
Course Content
What is a Script program?
Types of Scripts
Difference between Script and Programming Languages
Features and Limitation of Scripting
Types of programming Language Paradigm
What is Python?
Why Python?
Who Uses Python?
Characteristics of Python
History of Python
● Course Overview
● What is a Script program?
● Types of Scripts
● Difference between Script and Programming Languages
● Features and Limitation of Scripting
● Types of programming Language Paradigms
● What is Python?
● Why Python?
● Who Uses Python?
● Characteristics of Python
● History of Python
● Install Python IDE | IDE - Sublime Text
● Python Download and Installation on Windows, Linux and Mac
● Execute the Script
● Interactive and Script Mode
● Python File Extensions
● SETTING PATH IN Windows
● Python Comments
● Quit the Python Shell
● Shell as a Simple Calculator
● Quotations in Python
● Python Path Testing
● Joining two lines
● Create "Hello, AP2V Solutions!" program
● Numbers
● Strings
● Tuple
● Lists
● List Indexing and Slicing
● Defining and Accessing Lists
● Splitting and Joining Strings
● List Searching
● Dictionary
● Defining a Dictionary
● Dictionary Lookup and Update
● Checking Keys ● Exercises
Syllabus
Experience 250+ hours of best-in-class content developed by leading faculty & industry leaders in the form of videos, case studies & projects
Industry Project
Project 1

Guess the number game

If you guess correct then a message print saying "you guess right "otherwise a negative message prints.

Project 2

Random password generator

To create a program that takes a number and generate a random password length of that number.

Project 3

Dictionary Application

The user would enter a word, and your app will show its meaning.
Python Training in Jaipur Exam & Certification
Live your dream to be hired by top IT Companies with us, offering an array of professional courses with 100% Job Assistance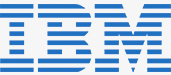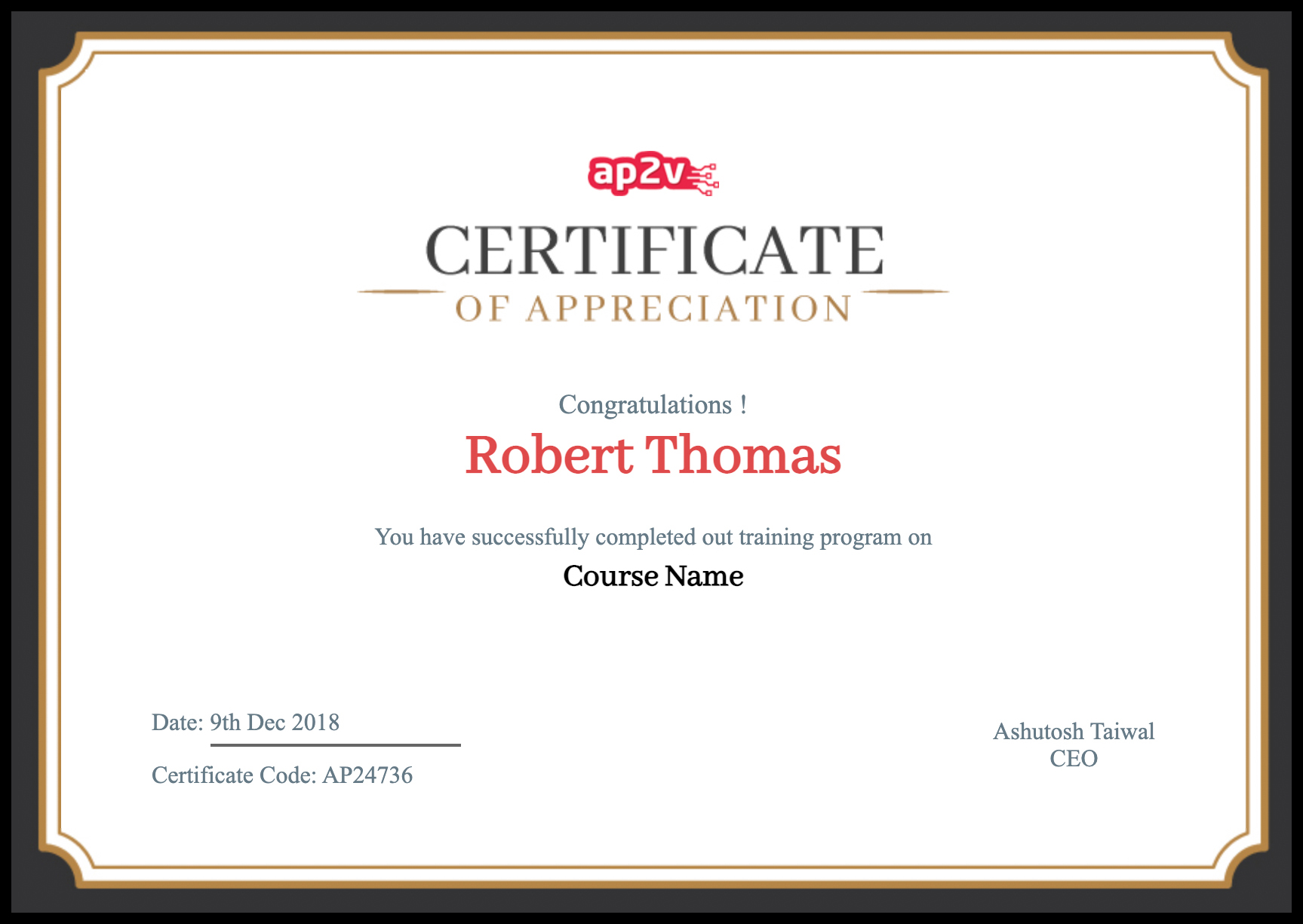 Frequently Asked Questions
Attending a Python core course in Jaipur will expose you to several fantastic opportunities from large organizations in the IT field, as well as assist you in acquiring all of the necessary skills that you will need in the future to be hired by a solid company with a high income.
The python core training center in Jaipur at AP2V institute is quite reasonable, so that anyone may pay for the class and advance their profession.
It would be the best decision of students to enroll at the AP2V Python core training course in Jaipur to get an entry-level python core certification in Jaipur.
It can take more than 10 days to learn the Python core course in Jaipur.
You can get Python Core training in Jaipur with real-time projects at one of the best institutes that are none other than your AP2V institute.
There are no pre-requirements to enroll in the Python core training institute in Jaipur to be an expert.
The best thing about the Python core certification course in Jaipur is that its cost price is very affordable hence anyone can pay for it and get to learn the advanced level of the Python core.
AP2V is one of the best institutes for Python core certification courses in Jaipur.
You can do the Python core course in Jaipur from the best institutes that are one and only AP2V.
Python Core Training in Other Cities