Skills Covered
Overview
PYTHON TRAINING: KEY USPS AND CERTIFICATION DETAIL
 

Affordable course fees

If you are planning to enroll in Python Training in Noida then AP2V is the best choice. Do you know why? Because its entire course comes in an affordable fee structure.

 

Experienced instructors

The mentors and instructors at AP2V Python Training in Noida are extremely talented and skilled. They would guide you throughout your course.

 

Availability of course materials

Apart from the above-mentioned facilities, you would acquire other facilities like gaining access to course materials at Python Training Centre in Noida.
Benefits of Python Training in Noida
PYTHON TRAINING: FUNDAMENTALS & KEY FEATURES
The following are the features of the Python Certification Course in Noida:
Self-paced learning feature
Quiz sessions
Doubt clearing sessions
Course video tutorials
Webinars/Seminars
Tasks and assignments
Online classes
Certificates, etc.
DO YOU WANT TO EXPLORE MORE ABOUT OUR PYTHON COACHING IN NOIDA?
Here are a few more details:
Python Certification Cost in Noida AP2V is affordable.
Our instructors for Python courses possess years of expertise in the area and have technical experience.
Our students have access to a wide variety of real study resources. Additionally, required reading materials and notes are made available to students.
All the necessary laboratory equipment is available at our institution, which makes it ideal for real-world applications.
COURSE OUTLINE
Are you interested in knowing what the Best Python Institute in Noida AP2V offers? Here is a detailed outline of our course. Read on to find!
WHAT ARE THE PREREQUISITES?
For learning Python, you do not even need to have any prior experience. If you have a basic understanding of computer programming, it will be helpful.
WHAT WILL YOU LEARN AT PYTHON INSTITUTE IN NOIDA?
You will gain knowledge and skills on the following topics if you enrol yourself in Python Course in Noida:
You will learn how to write in Python
You will learn deep learning and machine learning
Introduce Python and its features, including object-oriented programming (OOP),
Machine Learning techniques
Design your first code in Python
How to pass the Python professional certifications
Become familiar with the basics of programming, such as features and loops
WHO SHOULD ENROLL IN THIS COURSE?
The following individuals must enrol for the Python Training in Noida at AP2V:
Individuals interested in learning Python 
Professionals in the field of big data
Professionals in the Analytics Field
Software developers and ETL experts
Business Intelligence (BI) managers as well as project managers
WHY WILL PYTHON TRAINING CHANGE YOUR CAREER?
Python will play a significant role in your career as it is a widely used object-oriented programming language that is simple to learn and implement. It can function on a variety of operating systems, including Windows, Mac, and Linux which makes it a great sought-after tool in the Data Analytics field. After completing this Python certificate course, you'll be prepared to operate in the Big Data cluster for a big company that will offer you a large paycheck.
PYTHON TRAINING CAREER PROSPECTS
Individuals can land in the following job roles after completing the Python Certification in Noida AP2V:
Python Developer
Product Manager
Data Analyst
Educator
Financial Advisor
Data Journalists
TOP COMPANIES HIRE SOLUTIONS ARCHITECT SPECIALISTS
Students, as well as professionals who are enthusiastic about completing the Python Training in Noida successfully, will be recruited by top-notch companies. Candidates are also likely to get jobs in MNCs which are abroad.
Upcoming Batches
Jan 29

SAT & SUN Weekend Batch

Filling Fast

Timings - 07:00 AM to 09:00 AM

Feb 12

SAT & SUN (6 WEEKS) Weekend Batch

Timings - 08:30 PM to 11:30 PM

Jan 24

MON & FRI (6 WEEKS)

Filling Fast

Timings - 08:30 PM to 11:30 PM

Feb 07

MON & FRI (6 WEEKS)

Timings - 08:30 PM to 11:30 PM
69% OFF Expires in D H M S

Can't find a batch you were looking for? Contact AP2V Learner Support
Loved reviews? Enquire Now
Structure your learning and get a certificate to prove it
Python Training in Noida Curriculum
Syllabus
Experience 250+ hours of best-in-class content developed by leading faculty & industry leaders in the form of videos, case studies & projects
Industry Project
Project 1

Guess the number game

If you guess correct then a message print saying "you guess right "otherwise a negative message prints.

Project 2

Random password generator

To create a program that takes a number and generate a random password length of that number.

Project 3

Dictionary Application

The user would enter a word, and your app will show its meaning.
Python Training in Noida Exam & Certification
Live your dream to be hired by top IT Companies with us, offering an array of professional courses with 100% Job Assistance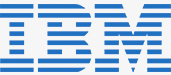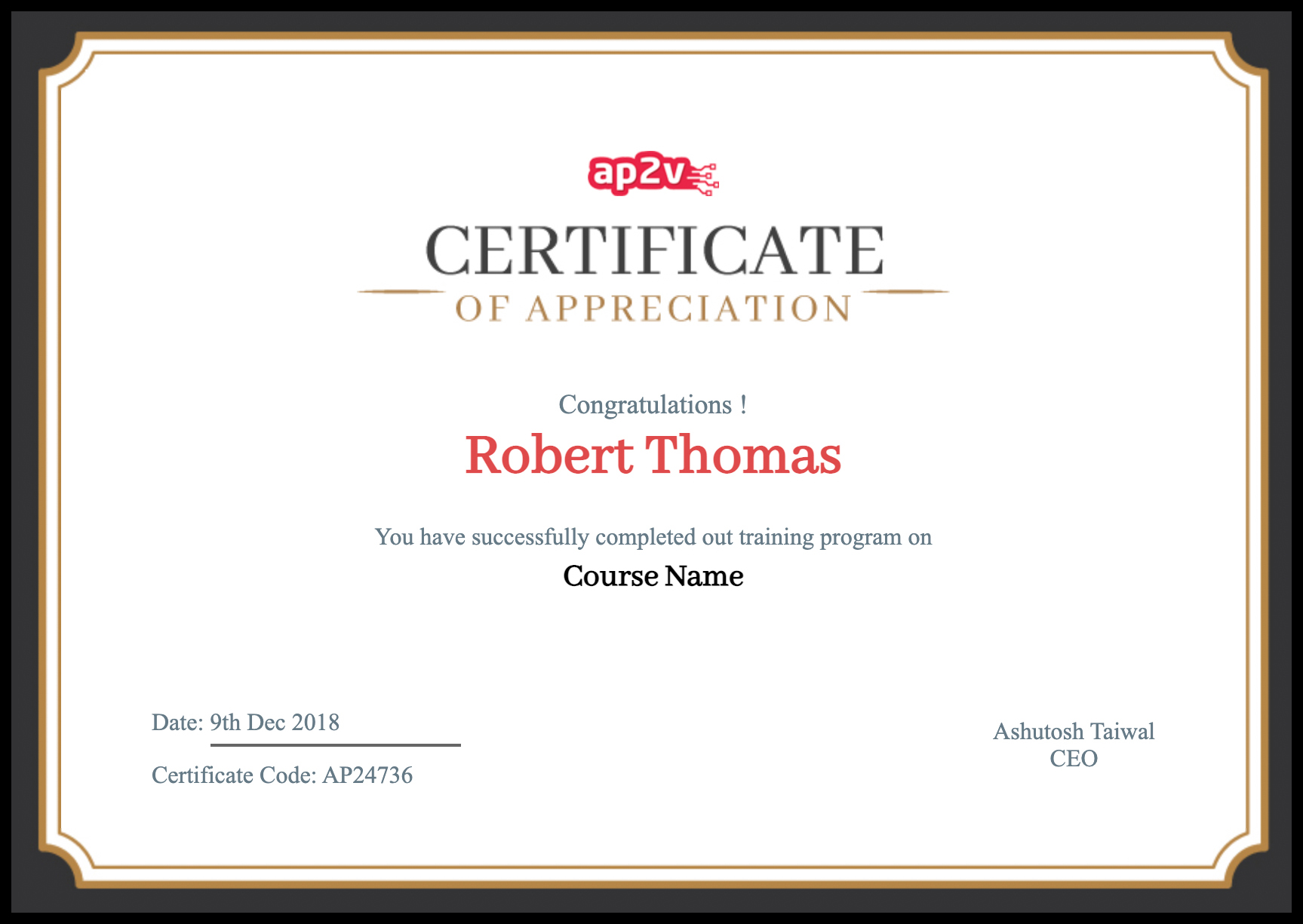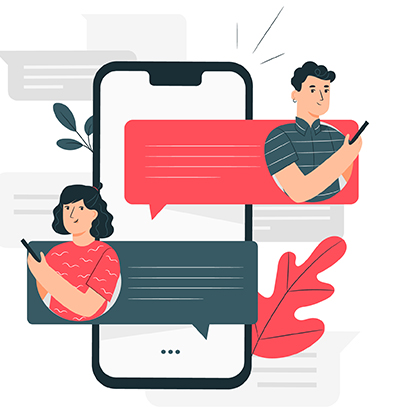 Python Training in Noida Reviews
Aman Sharma

It is a very good institute in case you are looking for a Python course. All the teachers are very helpful & provide lifetime support too. It was an effective learning experience. I recommend all to come and learn in AP2V Academy.

Shantani Kumar

It is the best institute for Python training. It creates good job opportunities for a good candidate in a good company.

Anmol Kumar

Nice place to learn, I've pursued python from this place, the trainers like Pankaj Yadav are highly cooperative and experienced. The management staff is humble.

Pooja Yadav

It is the best institute for Python training. It creates good job opportunities for a good candidate in a good company.

Shantanu Kumar

I have taken Python Core & Advanced coaching from AP2V Academy. The classes were excellent. Now I can develop my own Python application.

Gagan Gautam

It was wonderful to experience learning Python with ap2v Academy. Great faculty., The teaching methodology was great. Great confidence was achieved over python. Best Python training center in Gurugram
Frequently asked questions
Python is a top-level, open-source language of programming for general-purpose programming. Python was designed to be easy to read and effective.
The cost of the Python Core course in Noida is below Rs. 15, 000.
AP2V in Noida is the best place to get entry-level Python Core certification in Noida.
Python principles may be learned in six to eight weeks by a beginner. It takes that long to learn how to grasp the vast majority of Python operating systems. To become a Python Developer, you'd need to spend a lot more time learning Python.
You can get Python Core training in AP2V Noida with real-time projects.
As a beginner, it's preferable to start with basic ideas like data structures and object-oriented coding. Read genuine Python projects to help you better grasp the concept and its implementation.
You should compare Python course fees in Noida charged by different colleges before choosing one. Costs for certification courses range from about Rs. 13,000 to Rs. 15,000 on average.
AP2V institute in Noida is the best for Python Core in India.
You can get Python Core training in Noida AP2V.
Trending Courses
Artificial Intelligence

Programming & Frameworks

Know more

Artificial Intelligence

Programming & Frameworks

Know more