Skills Covered
Overview
you will find yourself proficient in coding applications and understanding automation in machine learning, along with several other skills.
Key USPs and Certification Detail -
1. Expert Supervision

The high credentials of our faculty members, as well as the promise of getting your doubts cleared at any time, make us the Best Python Institute in Pune.

 

2. Facilities

The facilities available at our Python Coaching in Pune are at par with every other institute out there. We ensure to provide the students with the latest equipment while teaching.

3. Pedagogy

Our faculty is well trained to make our Python Classes in Pune interactive and stimulating to nurture practical skills in you and make you adept in Python .
Benefits of Python Training in Pune
Python Fundamentals and Key features -
Python as a programming language is essential for Machine learning, data science, and eventually artificial intelligence. It is an object-oriented programming language with a simplistic syntax which makes it time-saving to code. A few of its fundamental key features which are taught during our Python Training in Pune are:-
●    Libraries and frameworks:
Python has a myriad of libraries and frameworks, which make it efficient and time-saving without compromising on the quality and security of the work.
●    Cross-platform:
Python can be coded and executed on any platform or operating system the user is comfortable in.
●   Open source:
Python works on open source. Hence, it is free for use.
●    Other features:
Python is robust, readable, and is dynamically typed. It is also secure and applicable in data sciences.
Due to the aforementioned features, Python is in high demand in the industry. Hence you should enroll in our Python Coaching in Pune.
Python - Course Outline - 
Python Institute in Pune has a very wide and practical course outline that will make you a promising employee in your relevant field of work. It has modules which are created by our team of experts with years of experience in the IT industry and after extensive research of the market. The advanced course includes the following:
●    Strings, loops, and condition statements
●    Variables and data types
●    Methods and Functions
Please note that the list is not an exhaustive one.
Who Should Enroll In This Course?
Coders who do not know the language should enroll in the training since having knowledge and skills of multiple languages is imperative for profile building. Our Python Institute in Pune offers a course with no prerequisites. Therefore any rookie who wants to establish a career in Artificial intelligence and Machine learning can gain from the training program. Freshers with no experience should enroll as well to build their resumes. 
Why Will This Course Change Your Career? 
The Python Certification at our Python  Training Centre in Pune will drastically change the pace of your career. A person who is adroit in Python coding can easily land a job that pays 6 lakhs per annum on average. You can comfortably get a job that pays more than a lakh per month if you look more diligently. Experts are paid more leisurely.
The course can change your career in several ways:
●    The certification course will make you skilled enough to secure a job title and also sustain it. Promotions will follow easily. This is because it focuses on real-time learning.
●    You can become eligible to be sought by international companies since Python is well recognized and in demand.
After the completion of the course at our revered Python Training Institute in Pune, you can compete for the following job titles:-
●    Entry-Level Software Developer 
●    Junior Python Developer
●    Software engineer
●    GIS Analyst
●    Data Scientist
●    Python full stack developer
●    Machine Learning Engineer
However, this is not an exhaustive list. There is no question when it comes to the relevance of Python Certification in Pune. Your dream career can get the boost it always needed to start via gaining specialization in the Python language.
Top companies Hire Python Specialists
Python Training Course in Pune will make you the most suitable candidate in the eyes of top-level Multinationals. This is because of the growing popularity of the coding language. Since it is the most advanced coding language, it offers features better than other coding languages. Companies have realized that Python is more efficient and cost-effective owing to its simplicity and time-saving syntax.
Upcoming Batches
Dec 11

SAT & SUN Weekend Batch

Filling Fast

Timings - 07:00 AM to 09:00 AM

Dec 25

SAT & SUN (6 WEEKS) Weekend Batch

Timings - 08:30 PM to 11:30 PM

Dec 13

MON & FRI (6 WEEKS)

Filling Fast

Timings - 08:30 PM to 11:30 PM

Dec 27

MON & FRI (6 WEEKS)

Timings - 08:30 PM to 11:30 PM
10% OFF Expires in 01 D 13 H 29 M 20

Can't find a batch you were looking for? Contact AP2V Learner Support
Loved reviews? Enquire Now
Structure your learning and get a certificate to prove it
Python Training in Pune Curriculum
Requirements
Requirements For this Course is Here...
Pre Requirements
None
Course Content
Syllabus
Experience 250+ hours of best-in-class content developed by leading faculty & industry leaders in the form of videos, case studies & projects
Industry Project
Project 1

Guess the number game

If you guess correct then a message print saying "you guess right "otherwise a negative message prints.

Project 2

Random password generator

To create a program that takes a number and generate a random password length of that number.

Project 3

Dictionary Application

The user would enter a word, and your app will show its meaning.
Python Training in Pune Exam & Certification
Live your dream to be hired by top IT Companies with us, offering an array of professional courses with 100% Job Assistance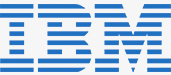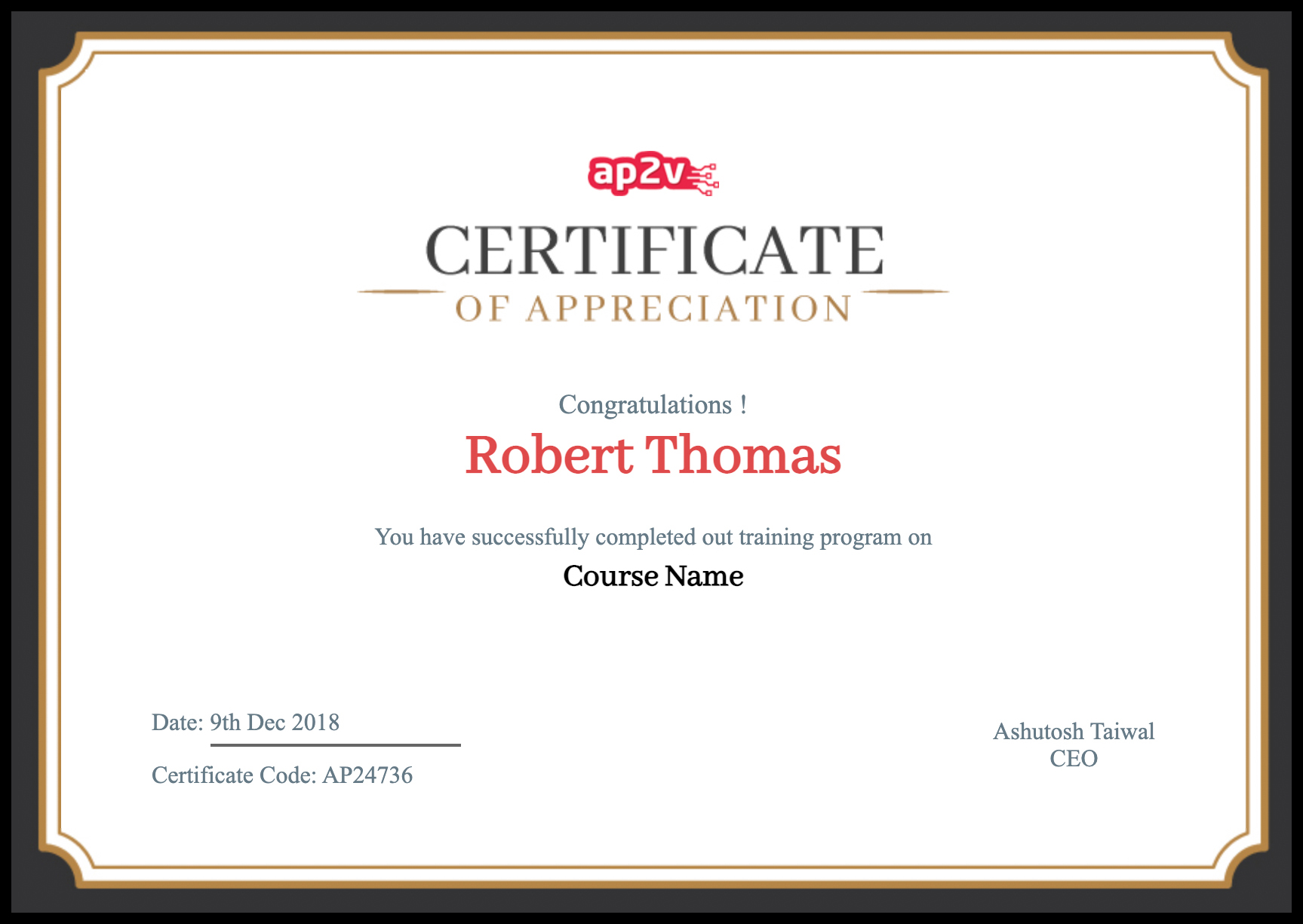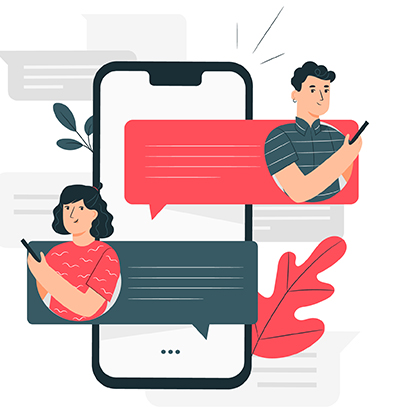 Python Training in Pune Reviews
Aman Sharma

It is a very good institute in case you are looking for a Python course. All the teachers are very helpful & provide lifetime support too. It was an effective learning experience. I recommend all to come and learn in AP2V Academy.

Shantani Kumar

It is the best institute for Python training. It creates good job opportunities for a good candidate in a good company.

Anmol Kumar

Nice place to learn, I've pursued python from this place, the trainers like Pankaj Yadav are highly cooperative and experienced. The management staff is humble.

Pooja Yadav

It is the best institute for Python training. It creates good job opportunities for a good candidate in a good company.

Shantanu Kumar

I have taken Python Core & Advanced coaching from AP2V Academy. The classes were excellent. Now I can develop my own Python application.

Gagan Gautam

It was wonderful to experience learning Python with ap2v Academy. Great faculty., The teaching methodology was great. Great confidence was achieved over python. Best Python training center in Gurugram
Frequently asked questions
You should attend Python Training in Pune to give your career in coding a much-needed boost since python is high in demand.
Depending on the institute and the type of course, the Python Certification Cost in Pune can vary between 10 thousand rupees to 50 thousand rupees.
You can easily get an excellent entry-level Python Certification from AP2v's renowned Python Core Training Centre in Pune.
Ap2V's Python Classes in Pune go on for about one and a half months roughly. This duration is enough to help you learn.
Ap2V's Python Classes in Pune go on for about one and a half months roughly. This duration is enough to help you learn.
Ap2v's Python Training Institute in Pune has a curriculum that enables you to get experience with real-time projects.
To become an expert in Python Core, you will need to gain years of experience in the industry in addition to joining a Python Certification Course in Pune or elsewhere.
The cost of an advanced Python Core Certification in Pune varies from institution to institution. On average, it ranges between 10 thousand to 60 thousand rupees.
AP2V has a proficient team of professionals to guide you, and it is the best Python Institute in Pune.
At AP2V, you can get the most efficient and reasonable Python Course Duration & Fees in Pune, respectively, to its customers.