Skills Covered
Overview
OUR KEY USP AND CERTIFICATION DETAILS
| | |
| --- | --- |
| 1. Comprehensive syllabus | Our syllabus is comprehensive covering subjects required to become a Red Hat certified Linux expert. Our Linux training coaching in Jaipur keeps the fear of handling administrative tasks out by providing project-based training |
| 2. World-class faculty | The Linux Certification Course in Jaipur is a project-based and is taught by certified and experienced faculties who have handled administrative tasks |
| 3. Career-oriented | Our Linux Certification in Jaipur is a job oriented program. It lets you in the administrative job with leading organizations at attractive remunerations |
Benefits of Linux Training in Jaipur
LINUX FUNDAMENTALS AND KEY FEATURES
Linux is the best platform in computer technology. Several platforms like mobile phones, web servers, personal computers, supercomputers and cloud-servers are powered by Linux. A Linux administrator is responsible to manage the computer systems like maintain, enhance, taking backup and command-line interface. Our Linux Training Coaching in Jaipur shapes your career brighter in Linux system administrator. Reasons to learn Linux-
A professional IT program gives an assurance of jobs in MNCs and small IT hubs 

After Windows, Linux is the most widely used platforms 

Several websites operated on Linux 

One of the most trusted platforms by financial organizations to  maintain and manage financial transactions 

A widely trusted embedded platforms 

Google's Android OS is a Linux derivative 

Developing skills in Linux shape your career in server programming, IoT code, and apps for embedded systems
The RHCSA and RHCE is the feather of Linux certifications. 
LINUX COURSE OUTLINE
Our Linux training classes in Jaipur is a practical-based training to help crack the Red Hat Certified System Administrator (RHCSA) and Red Hat Certified Engineer (RHCE) exams in your first attempt. Our trained candidates are efficient enough to handle fundamental system administration duties in Linux Environments.  
Our Linux Training Center in Jaipur provides in depth Linux training in three divisions- 
RH124 – Red Hat System Administration I 

RH134 – Red Hat System Administration II  

RH254 – Red Hat System Administration III
We focus on building your foundation and then advanced training for Red Hat Certified Engineer (RHCE) is started.
WHO CAN ENROL IN THE COURSE?
There are no prerequisites for the course. It is suitable for all who want to make career in Linux engineering. However, after your class 12th, you can enrol in the program as fresher.  Our Linux training coaching in Jaipur is opened for everyone, brushing your knowledge in the foundation and advanced training in Linux. So, it is a well-suitable course for those-
Who are willing to make their career in Linux 

Who are willing to shape their future in Linux administration

Looking for future in server software and command line interface
HOW DOES THE COURSE CHANGE YOUR FUTURE?
After Windows, Linux is the second most popular operating systems. Linux is a fast and safe platforms, trusted by banks and other financial organizations. It offers users multitasking. It has all the features that an organization looks for in an Operating System. With our comprehensive Linux training, you are eligible for- 
Linux + Comptia 

RHCE (Red Hat Certified Engineer)

GCUX (GIAC Certified Unix Security Administrator)

Oracle Linux OCA & OCP

LPI (Linux Professional Institute)
We are the best for Linux Training in Jaipur because our detailed Linux training helps individuals to crack Red Hat certification exams for Linux and get wonderful job opportunities in Jaipur or outside. We are still connected with our alumni by introducing them several other job-oriented courses. Here are some good reasons why AP2V for Linux training certification course in Jaipur-
Offer industry-led training 

Develop hands-on and troubleshoot skills

Providing training in small batches so that each one get equal chance to clear their doubts

Standard study plan to clear the concept and get advanced training

Assurance of 100% placement

Preparing individuals for Q and A

Arrange interviews with top MNCs
TOP COMPANIES HIRING LINUX ADMINISTRATORS
The RHCSA and RHCE certification is a 100% job oriented certification. As a certified Red Hat Linux administrator, you will easily get jobs at multinational organizations with attractive remunerations, ranging from 2,00,000 to 6,00,000 LPA. Experience in the field helps to get promotion and an interesting hike in the salary.  
After this course, you can further plan for Network Engineer, Software Developer, Linux Engineer, Senior Java Developer, and TechOps Engineer courses in Linux.  
Upcoming Batches
May 21

SAT & SUN Weekend Batch

Filling Fast

Timings - 09:00 AM to 11:00 AM

Jun 04

SAT & SUN (6 WEEKS) Weekend Batch

Timings - 01:00 PM to 03:00 PM

May 16

MON & FRI (6 WEEKS)

Filling Fast

Timings - 09:30 AM to 10:30 AM

May 30

MON & FRI (6 WEEKS)

Timings - 05:00 PM to 06:00 PM
67% OFF Expires in D H M S

Can't find a batch you were looking for? Contact AP2V Learner Support
Loved reviews? Enquire Now
Structure your learning and get a certificate to prove it
Linux Training in Jaipur Curriculum
Course Content
Chapter #1: Introducing Ansible
• Automating Linux Administration with Ansible
• Installing Ansible
● Accessing the Command Line Using the Local Console
● Accessing the Command Line Using the Desktop
● Executing Commands Using the Bash Shell
Chapter #1: Automating Installation with Kickstart
● Defining the Anaconda Kickstart System
● Deploying a New Virtual System with Kickstart
• Building an Ansible Inventory
• Managing Ansible Configuration Files
• Running Ad Hoc Commands
● The Linux File System Hierarchy
● Locating Files by Name
● Managing Files Using Command- Line Tools
● Matching File Names Using Path Name Expansion
• Writing and Running Playbooks
• Implementing Multiple Plays
Syllabus
Experience 250+ hours of best-in-class content developed by leading faculty & industry leaders in the form of videos, case studies & projects
Linux Training in Jaipur Exam & Certification
Live your dream to be hired by top IT Companies with us, offering an array of professional courses with 100% Job Assistance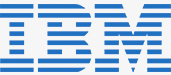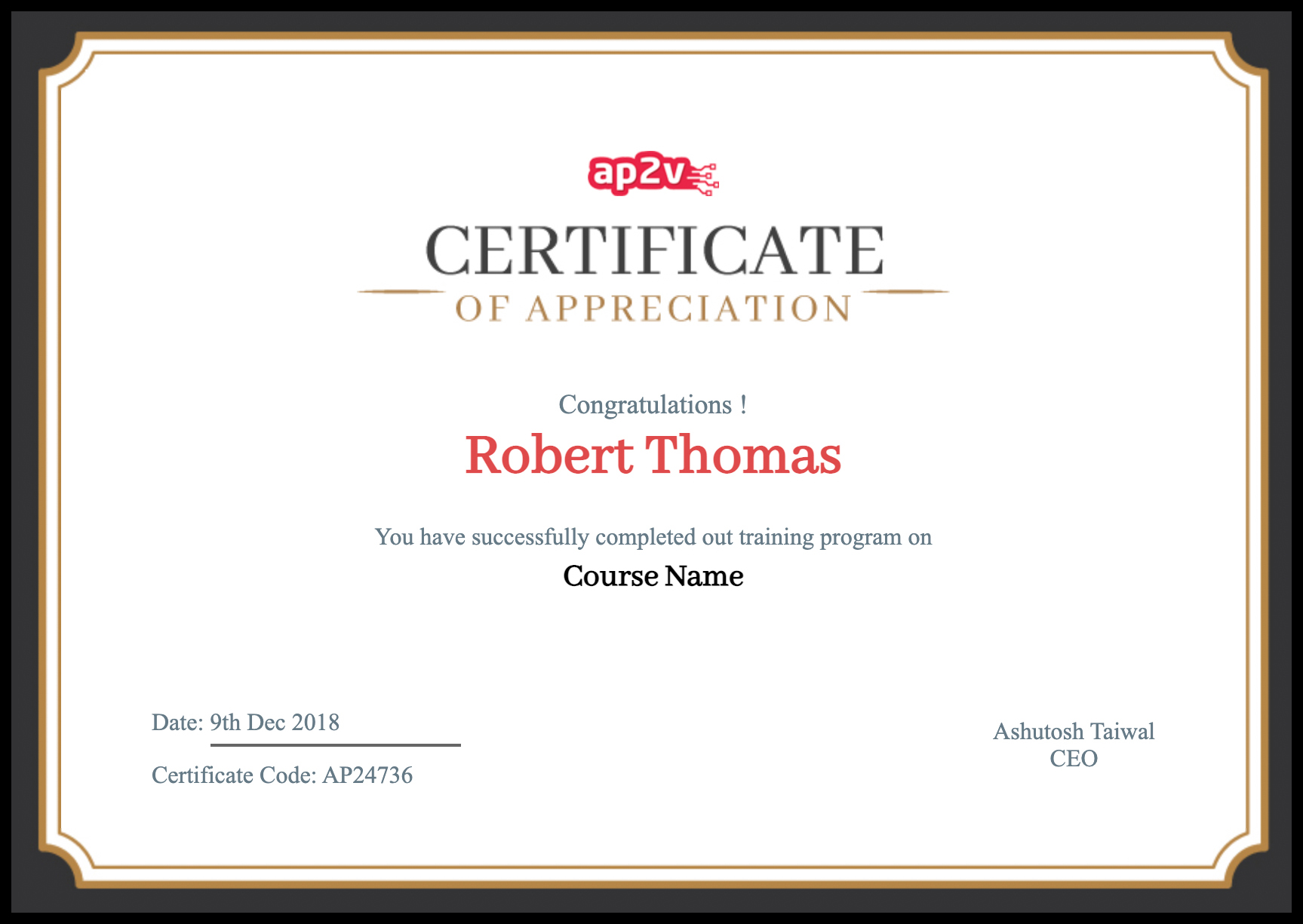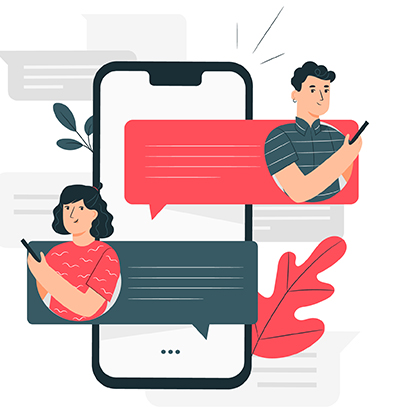 Linux Training in Jaipur Reviews
Pankaj Joshi

It was a wonderful experience of learning Linux from AP2V Academy....as they gave so many practical examples and data so that our concept becoming more clear.. Infrastructure is also good. Thanks a lot to AP2V Academy

Ridhi Chhabra

Great institute for learning things! Trainer has great n core knowledge of DevOps and Linux! Would highly recommend it.

Snigdha Verma

Amazing classes, great trainers, and wonderful lectures, all who are interested in learning Linux should have no confusion but just come ap2v solution.

Alok Kumar

I attended #Linux & #OpenStack training at AP2V Solutions. The training was good and Each concept has been explained clearly with real-time scenarios. Thanks, AP2V, Keep it up.
Frequently asked questions
RHCE is an advanced Red Hat administrator online Linux course. The pricing of the course can range 8k to 9k. Our Linux training makes individuals confident enough to face challenges as a Linux administrator.
Red Hat certification is an IT professional training. It develops hands-on skills to troubleshoot all types of administrative issues with Linux, maintain, enhance, and create users' accounts, taking backup and command-line interface tools.
Red Hat training is an enterprise-based training. Red Hat Linux training aims at making the Linux one of the best platforms for users to manage and control their work.
Yes, RHCE is a complete job oriented program to get instant job offers from small and large IT hubs, banks, and other organizations handling work on Linux. It is a core technology that is not going to change in future
With the help of Ansible and Openshift, you can setup a lab at home. It is good to use VMs as it makes the setup easier. You can take help from the cloud-hosted solution. To learn more about it, contact our RHCE expert.
Our RHCE course ends in a few months. It is a rapid course. After this, you are ready to face the RHCE certification exam to become a Red Hat certified Linux administrator.