Skills Covered
Overview
PYTHON ADVANCE: KEY USPS AND CERTIFICATION DETAIL
 

Experienced Mentors

Our highly qualified and experienced instructors provide our students with thorough guidance and instruction, as well as exam preparation assistance.

 

Career Opportunities

After completing the Python Advance Training in Chandigarh at AP2V, you'll be able to apply for a variety of jobs and professional prospects.

 

Simplistic Learning

The Python Advance Course in Chandigarh at AP2V provides you with learning stability because our curriculum design is devoid of certain limits and limitations.
Benefits of Python Advance Training in Chandigarh
PYTHON ADVANCE: FUNDAMENTALS & KEY FEATURES
The following are the features of the Python Advance Certification in Chandigarh are as follows:
We have kept the fees structure low so that students may come to our facility and get the best python advanced course.
Students can enroll for Python Advance Classes in Chandigarh in either online or offline training sessions.
The faculty organizes quiz contests in class, debates and discussions, and assessments to test the students' understanding to make the training workshops more engaging.
If individuals have any problems or doubts, they can contact the instructors immediately.
When it comes to our institution's faculty, we have the most experienced and competent instructors to instruct our pupils.
The teachers have hands-on expertise and can offer the necessary guidance.
We give study materials, video tutorials, and video recordings of our classes so that students can refer to them whenever they need.
PYTHON ADVANCE: COURSE OUTLINE
Python is a scripting language that is easy and high-level, as well as adaptive and flexible, and interactive. Its main principle emphasizes code clarity, and its structure allows users to communicate concepts and ideas with fewer lines of code than other programming languages.
The Python programming language has characteristics that make it possible to create an understandable program on a global and regional scale. Learn Python Advance from the Best Python Advance Training in Chandigarh and obtain in-depth knowledge of the language, which will lead to well-paid employment in a top firm.
We'll start with a basic understanding of Python and work our way up to using the programming language's more advanced structures in this course. We'll create unique Python systems using advanced ideas to prepare you to work with a seasoned Python developer. Students who have completed the Python basic training course and received a certificate may apply for the Python Advance course. After all, before moving on to the advanced portion of any training program, individuals must understand the fundamental ideas. You may become a professional developer and thrive in the world of programming by taking an Python Advance training course from AP2V Chandigarh.
WHO SHOULD ENROLL THIS COURSE?
The Python Advanced Certification Course in Chandigarh is ideal for the following individuals:
People who have mastered the Python principles and wish to extend their knowledge by building advanced features.
Students with a desire to learn more about animation technologies.
Anyone who wants to understand more advanced gaming principles.
WHY WILL PYTHON ADVANCE TRAINING IN CHANDIGARH CHANGE YOUR CAREER?
Python Advance Training in Chandigarh at AP2V allows you to build a wide range of apps. Web development in Python and Java are both popular due to their flexibility. They can use this platform to construct cutting-edge apps in a variety of sectors. As a result, the need for Python developers is increasing. Python has become a widely utilized and in-demand programming language in the software industry around the world, particularly in the United States.
TOP COMPANIES HIRE ADVANCED PYTHON SPECIALISTS
A wide range of companies, both large and small, require good python skills. Python developer pay varies depending on a number of factors, including current and prior experience, professional abilities, insight and competency level, and geographic region.
Upcoming Batches
Oct 01

SAT & SUN Weekend Batch

Filling Fast

Timings - 09:00 AM to 11:00 AM

Oct 15

SAT & SUN (6 WEEKS) Weekend Batch

Timings - 01:00 PM to 03:00 PM

Oct 03

MON & FRI (6 WEEKS)

Filling Fast

Timings - 09:30 AM to 10:30 AM

Oct 17

MON & FRI (6 WEEKS)

Timings - 05:00 PM to 06:00 PM
67% OFF Expires in D H M S

Can't find a batch you were looking for? Contact AP2V Learner Support
Loved reviews? Enquire Now
Structure your learning and get a certificate to prove it
Python Advance Training in Chandigarh Curriculum
Course Content
● Course Overview
● What is a Script program?
● Types of Scripts
● Difference between Script and Programming Languages
● Features and Limitation of Scripting
● Types of programming Language Paradigms
● What is Python?
● Why Python?
● Who Uses Python?
● Characteristics of Python
● History of Python
● Install Python IDE | IDE - Sublime Text
● Python Download and Installation on Windows, Linux and Mac
● Execute the Script
● Interactive and Script Mode
● Python File Extensions
● SETTING PATH IN Windows
● Python Comments
● Quit the Python Shell
● Shell as a Simple Calculator
● Quotations in Python
● Python Path Testing
● Joining two lines
● Create "Hello, AP2V Solutions!" program
● Numbers
● Strings
● Tuple
● Lists
● List Indexing and Slicing
● Defining and Accessing Lists
● Splitting and Joining Strings
● List Searching
● Dictionary
● Defining a Dictionary
● Dictionary Lookup and Update
● Checking Keys
● Exercises
● Python Strings
● Concatenation
● Indexing Strings
● Searching Strings
● Slicing Strings
● Formatting Strings
● Concatenation
● Exercises
● Boolean Logic
● Logical Expressions
● Comparisons
● Conditionals
● More conditionals
● Nested conditions
Syllabus
Experience 250+ hours of best-in-class content developed by leading faculty & industry leaders in the form of videos, case studies & projects
Python Advance Training in Chandigarh Exam & Certification
Live your dream to be hired by top IT Companies with us, offering an array of professional courses with 100% Job Assistance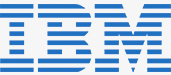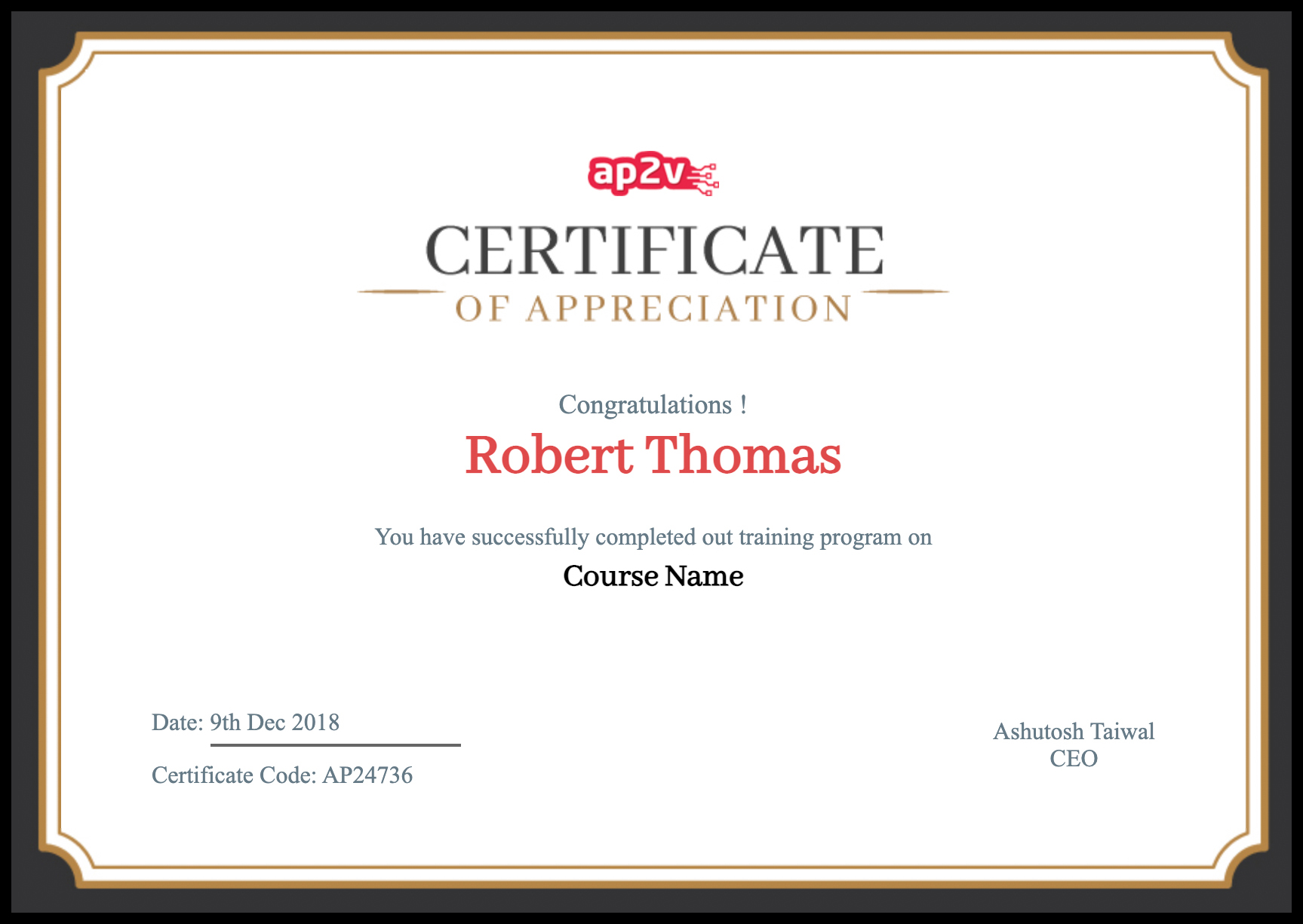 Frequently Asked Questions
You must attend Python Advance Training in Chandigarh because it is one of the most useful and easy programming languages.
A Python Advance course cost in Chandigarh may cost around Rs. 8 to 9K.
You can get entry level Python Advance certification in Chandigarh at AP2V.
It will take you about a month or so to complete the training program.
You can get Python Advance training in Chandigarh with real time projects at AP2V.
Prerequisites of Python Advance Certification in Chandigarh: ● To execute Python, students must be comfortable with the operating system. Windows, Linux, Mac OS X, UNIX, and other operating systems are examples of operating systems. ● The learners should have a basic understanding of Python.
A Python Advance course cost in Chandigarh may cost around Rs. 8 to 9K.
AP2V in Chandigarh is the best Python Advance training institute in India.
You can get Python Advance training in Chandigarh at AP2V institute.
Python Advance Training in Chandigarh