Skills Covered
Overview
We provide students the choice of undertaking this course in both online and offline mode. If you are an IT professional aiming to gain the necessary skills and knowledge for cloud computing, enroll yourself in the Certified Kubernetes Application Developer Training Institute in Gurgaon.
KEY USPS AND CERTIFICATION DETAIL -
| | |
| --- | --- |
| Mentorship from Industry Experts | Our team of experts has years of experience under their belt. Their knowledge and skills are valuable resources that will provide necessary guidance to students enrolled in the Certified Kubernetes Application Developer Training Centre in Gurgaon. |
| Excellent Job Opportunities and Expanded Horizons | Students who complete the training will have enhanced chances of earning a high-paying spot in well-known companies around the globe. |
| Quality Training at a Nominal Fee | Our courses are available at highly affordable prices to ensure that the Certified Kubernetes Application Developer Centre in Gurgaon can be accessible to one and all. |
Benefits of Certified Kubernetes Application Developer (CKAD) Training in Gurgaon
CERTIFIED KUBERNETES APPLICATION DEVELOPER FUNDAMENTALS & KEY FEATURES -
AP2V's Certified Kubernetes Application Developer course in Gurgaon will help the students to gain knowledge about the development, creation, and management of Kubernetes applications. The certificate they receive post-training enhances their credibility and acts as a testament to their competence. The practical tasks assigned during the course provide hands-on experience to students pursuing Certified Kubernetes Application Developer coaching in Gurgaon, which will benefit them in the future. An accredited Kubernetes developer can perform functions such as using fundamental algorithms to design and troubleshoot applications in Kubernetes. Availing AP2V's Certified Kubernetes Application Developer classes in Gurgaon will also equip students to utilize core primitives for the building and supervising of Kubernetes applications and tools. 
CKAD has been designed by the Cloud Native Computing Foundation (CNCF) to train individuals to operate Kubernetes. The program educates developers who intend to use Kubernetes in their projects. Earning a Certified Kubernetes App Developer (CKAD) Course in Gurgaon will enable candidates to become valuable assets within any company.
COURSE OUTLINE –
The course will teach students to design apps and coach them to work with network policies of Kubernetes, perform debugging, build probes for a pod and gain a thorough understanding of exposing services of Kubernetes. They will also learn practical skills relevant to their field. Therefore, the Certified Kubernetes Application Developer certification course in Gurgaon provides aspirants with the best resources for cracking the exam.
WHO SHOULD ENROL IN THIS COURSE?
Developers who wish to become a part of the Kubernetes ecosystem and earn knowledge that is highly valued in the IT industry should enrol in the course. The Certified Kubernetes Application Developer course in Gurgaonequips candidates to create and deploy Cloud Native services.
KUBERNETES (CKAD) COURSE IN GURGAON CHANGE YOUR CAREER?
The knowledge of Kubernetes is highly valued in the IT industry. Earning a CKAD certificate can open up multiple opportunities for high-paying jobs. The exam tests individuals on their expertise in navigating Kubernetes and comprises a set of practical problems which they need to solve from the command line. The program not only imparts knowledge but also enhances candidates' ability to think on their feet which is a valuable soft skill. The affordability of the Certified Kubernetes Application Developer Certification cost in Gurgaon makes it the best platform for pursuing this program. At nominal rates, you can have access to AP2V's team of trained experts who will put you on the path to success.
You will also be able to connect with fellow aspirants and have a space for doubt clearing and mutual learning. With invaluable practical skills and support and guidance from mentors, AP2V leaves no stone unturned in preparing you to take on the world. This is what makes AP2V the best Certified Kubernetes Application Developer Institute in Gurgaon.
TOP COMPANIES HIRE CERTIFIED KUBERNETES APPLICATION DEVELOPERS
The high demand for Kubernetes developers in the IT industry ensures that certified candidates will have endless opportunities to work in well-known multinational companies and tech giants across the globe, such as IBM, Rackspace, TCS, and HCL.
Upcoming Batches
Oct 08

SAT & SUN Weekend Batch

Filling Fast

Timings - 09:00 AM to 11:00 AM

Oct 22

SAT & SUN (6 WEEKS) Weekend Batch

Timings - 01:00 PM to 03:00 PM

Oct 03

MON & FRI (6 WEEKS)

Filling Fast

Timings - 09:30 AM to 10:30 AM

Oct 17

MON & FRI (6 WEEKS)

Timings - 05:00 PM to 06:00 PM
43% OFF Expires in D H M S

Can't find a batch you were looking for? Contact AP2V Learner Support
Loved reviews? Enquire Now
Structure your learning and get a certificate to prove it
Certified Kubernetes Application Developer (CKAD) Training in Gurgaon Curriculum
Course Content
● Introduction to Kubernetes
● Kubernetes Architecture
● Understand Kubernetes API primitives
● Design a Kubernetes Cluster
● Installation of Kubernetes Master and Nodes
● Choose a Network Solution
● Verify Installation
● Create and Configure Basic Pods
● Understand ConfigMaps
● Understand SecurityContexts
● Define an application's resource requirements
● Create & consume Secrets
● Understand ServiceAccounts
● Understand Multi-Container Pod design patterns (e .g. ambassador, adapter, sidecar)
● Understand LivenessProbes and ReadinessProbes
● Understand container logging
● Understand how to monitor applications in Kubernetes
● Understand debugging in Kubernetes
Syllabus
Experience 250+ hours of best-in-class content developed by leading faculty & industry leaders in the form of videos, case studies & projects
Industry Project
Project 1

Application Deployment

Deploy your application in form of pods and containers and use multi-container pods deployment for running multiple application together.

Project 2

Application availability

Deploy pods with liveness and readiness probes to manage the application availability

Project 3

Data Availability

Working with databases stateful set and deployment with persistent volumes for data availability
Certified Kubernetes Application Developer (CKAD) Training in Gurgaon Exam & Certification
Live your dream to be hired by top IT Companies with us, offering an array of professional courses with 100% Job Assistance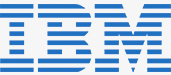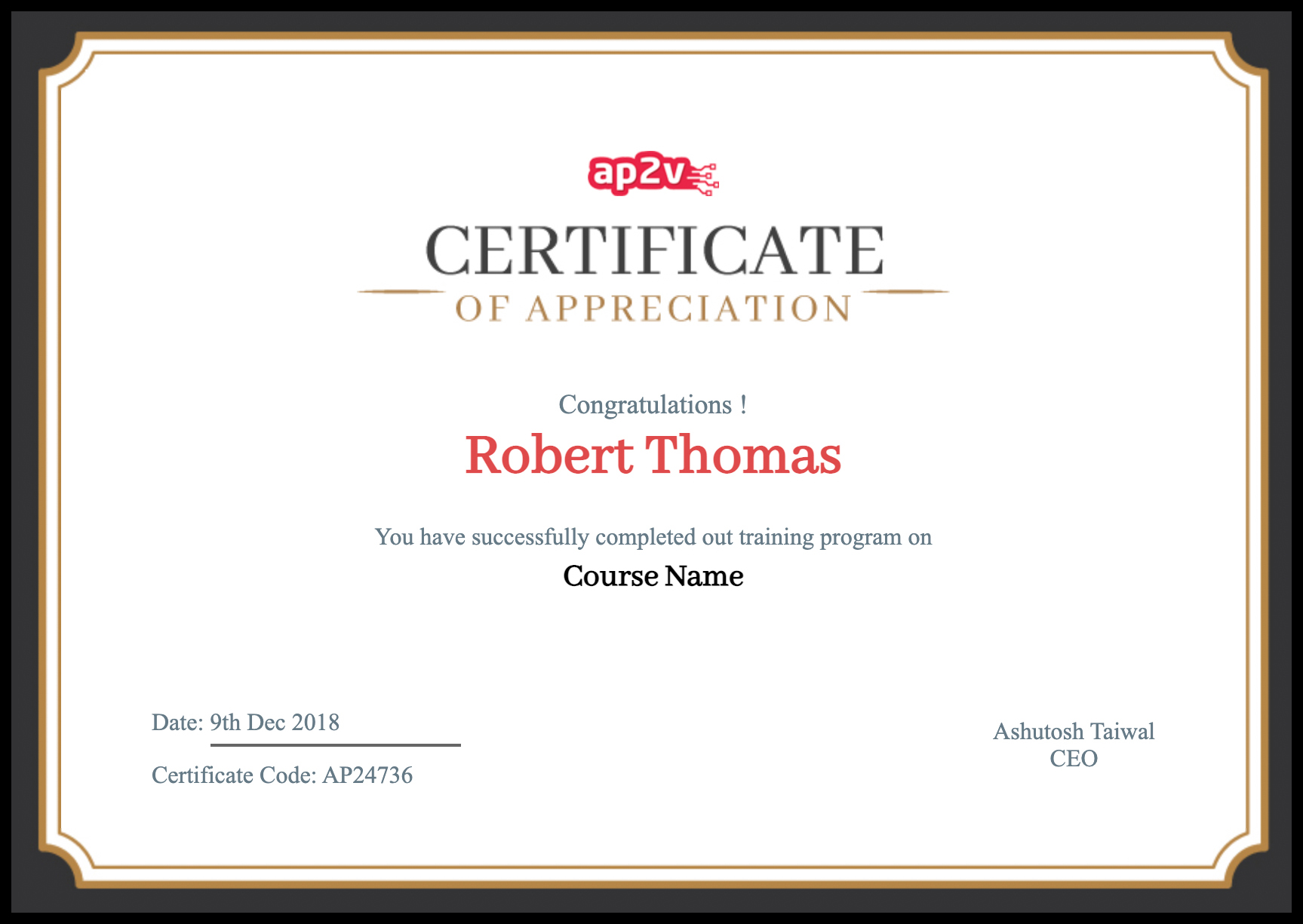 Frequently Asked Questions
DevOps training at AP2V will allow you to gain a comprehensive understanding of DevOps at an affordable fee. Our team of professionals can provide you with the experience required for the corporate world.
CKAD training at AP2V is available for the nominal fee of 17,995/-. At AP2V, we have the most accommodating Certified Kubernetes Application Developer course duration and fees in Gurgaon.
AP2V is one of the leading institutes in India to provide a certification course for aspiring Kubernetes developers. Our comprehensive curriculum and experienced faculty make us the best in the business.
CKAD certification will require 250+ hours of learning through videos, case studies, and projects.
AP2V provides 30 practical projects to offer real-time experience and lab access during sessions to prep you to become an expert in your field.
To become a CKAD expert, you need to acquire a certificate for the Certified Kubernetes Application Developer course. Aspirants are recommended to have a basic understanding of container runtimes and microservices architecture
Our course is available to students at the highly affordable price of 17,995/-.
AP2V has been known to provide one of the best certification courses for CKAD in the country. Our team of industry leaders enables us to provide the highest quality education to our candidates.
Based on your preference you can either avail of on-campus or remote CKAD training at AP2V from the comfort of your home.