Overview
The platform is used for building solutions for businesses using interconnected web services and also provides a variety of Pre-built services that help the businesses in building their custom cloud-based solutions. Not only that but AWS also helps companies with a range of services such as data processing to achieve development, warehousing, game development, etc. AP2V is the best source through which one can learn an AWS course in Faridabad.
KEY USPS AND CERTIFICATION DETAILS-
| | |
| --- | --- |
| Advanced and Great Information | The entire team of AP2V is highly advanced in this field and ensures to provide the students with all the information necessary and related to this topic in their training course of AWS in Faridabad. |
| Cost-effective and Affordable | The programs that are offered by AP2V are incredibly efficient and affordable. They are fantastic programs that give students information about various topics like Python AWS etc and provide in-depth teaching related to the topic. |
| Significant Jump in one's career | From the viewpoint of one's career, AWS is extremely beneficial as it is slowly a rising field in the IT industry. People in the IT industry are demanding professionals with AWS knowledge and learning the certificates course from AP2V's specialized AWS training course in Faridabad will give the students an excellent start for their future career |
Benefits of AWS Training in Faridabad
KEY USPS AND CERTIFICATION DETAILS-
AWS is an excellent course that is provided by AP2V and it's Highly Effective and has an advanced faculty that allows the student to there understand all the essential concepts and inculcate the necessary information that is required in this topic. 
This course is highly effective and is not very expensive so that people can afford the AWS Training in Faridabad. In this training course, students can use the laugh for completing projects and practice assignments as conveniently as the lab is available all year long. There is a dedicated team of industry experts that have years of experience under their belt who train the students with the information about this course. 
Along with the technical training, a no-cause session on personality development spoken English group discussion et cetera is also provided to boost the confidence of the student. The teacher's footage has a lot of experience and teaches the students the concepts easily and understandably.
AWS- COURSE OUTLINE-
AWS is slowly becoming a major requirement in the IT industry. People in the IT industry look for people who are a trend in this course. Although this coast does not need any prior requirements it is highly recommended for people who want to make a career in the IT industry. Although there are many great AWS training courses in Faridabad, AP2V is the best one.
WHO SHOULD ENROLL IN THIS COURSE?
This course can be enrolled by anyone interested in learning about AWS. Students, who especially need to work in the IT industry are recommended to learn about this course. Anyone who has any interest in programming, software, clouting, etc can take up this course. Students who majorly want to gain knowledge and are interested in the concept can also enroll in this course.  
Although students who wish to make a career out of web development, software, and clouting should learn about AWS. As AWS is a course with a lot of benefits and has a lot of uses and guidance is required to know how to go about the course and the code using the language. Therefore, one should go for an AWS certification course in Faridabad as it will help them build relevant skills for their career in the future. 
AP2V is also the best option for the following professionals/candidates: Solutions Architects, Cloud Software Engineers, Programmers, Individuals looking to run fault-tolerant, highly flexible programs on the AWS cloud, DevOps professionals, and cloud Developers.
WHY WILL THIS COURSE CHANGE YOUR CAREER?
The AWS Certification Course in Faridabad can help the student in finding better job opportunities. Learning this course ensures huge offers to come in the student's way as this course is slowly rising in demand. The demand is so much so that the student might even become a valuable asset to the company if he has learned this course. 
As mentioned previously, the student gets better opportunities, better payment, with fewer software failures which rapidly boosts their career and growth in the industry. It ensures the candidate is getting an upgraded job with better facilities. So, therefore, learning this course is extremely useful. 
TOP COMPANIES TO HIRE AWS SPECIALISTS-
The AWS course is a very beneficial course to learn. Many companies employ AWS specialists, both national and international companies. AWS is used by the companies for the development of the application and to put their innovation in their sectors. It benefits both the company and the customers by eradicating the communication and collaboration challenges in IT organizations. It also allows the departments to quickly develop and provide high-quality applications to end-users. AP2V is the Best AWS Training course in Faridabad.
Upcoming Batches
Oct 08

SAT & SUN Weekend Batch

Filling Fast

Timings - 09:00 AM to 11:00 AM

Oct 22

SAT & SUN (6 WEEKS) Weekend Batch

Timings - 01:00 PM to 03:00 PM

Oct 03

MON & FRI (6 WEEKS)

Filling Fast

Timings - 09:30 AM to 10:30 AM

Oct 17

MON & FRI (6 WEEKS)

Timings - 05:00 PM to 06:00 PM
61% OFF Expires in D H M S

Can't find a batch you were looking for? Contact AP2V Learner Support
Loved reviews? Enquire Now
Structure your learning and get a certificate to prove it
AWS Training in Faridabad Curriculum
Course Content
• Introduction to Cloud Computing
• Why Cloud Computing?
• Benefits of Cloud Computing
• Public Cloud
• Private Cloud
• Hybrid Cloud
• Community Cloud
• Infrastructure as a Service
• Software as a Service
• Platform as a Service
• What is virtualization?
• Virtualization and cloud computing
• Types of virtualization
• Virtualization terminologies • Hypervisor
Introduction to AWS

Introduction to the AWS products

Regions and Availability Zones

Signing up for AWS

AWS Free usage tier

Introduction AWS management console
Understanding AMI

Launching your first AWS instance

On-demand instance pricing

Reserved Instance Pricing

Spor instance pricing



Spot instance pricing

Setting up security

Security group

Choosing the AMI

Creating the new AMI

IP Addresses Scheme

Public and Private IP's

Deploying a new instance from the created AMI

AMI Migrations

Key Pairs

Elastic IP's

Exercise(s)
Introduction to ELB

Basic ELB concepts



Internet-facing ELB

VPC-facing ELB

Create an ELB (Elastic Load Balancer)

Adding and removing instances on ELB

Exercise(s)
Syllabus
Experience 250+ hours of best-in-class content developed by leading faculty & industry leaders in the form of videos, case studies & projects
Industry Project
Create LAMP setup on aws using ec2, s3, rds and elb services

Project 2

Isolation resources using VPC's

Customized virtual infrastructure with high end isolation with VPC service. Integrate Route53 in the mix for proper dns support.

Project 3

Cloud Automation

Performing infrastructure automation with IAC tool cloud formation templates
AWS Training in Faridabad Exam & Certification
Live your dream to be hired by top IT Companies with us, offering an array of professional courses with 100% Job Assistance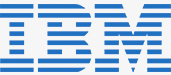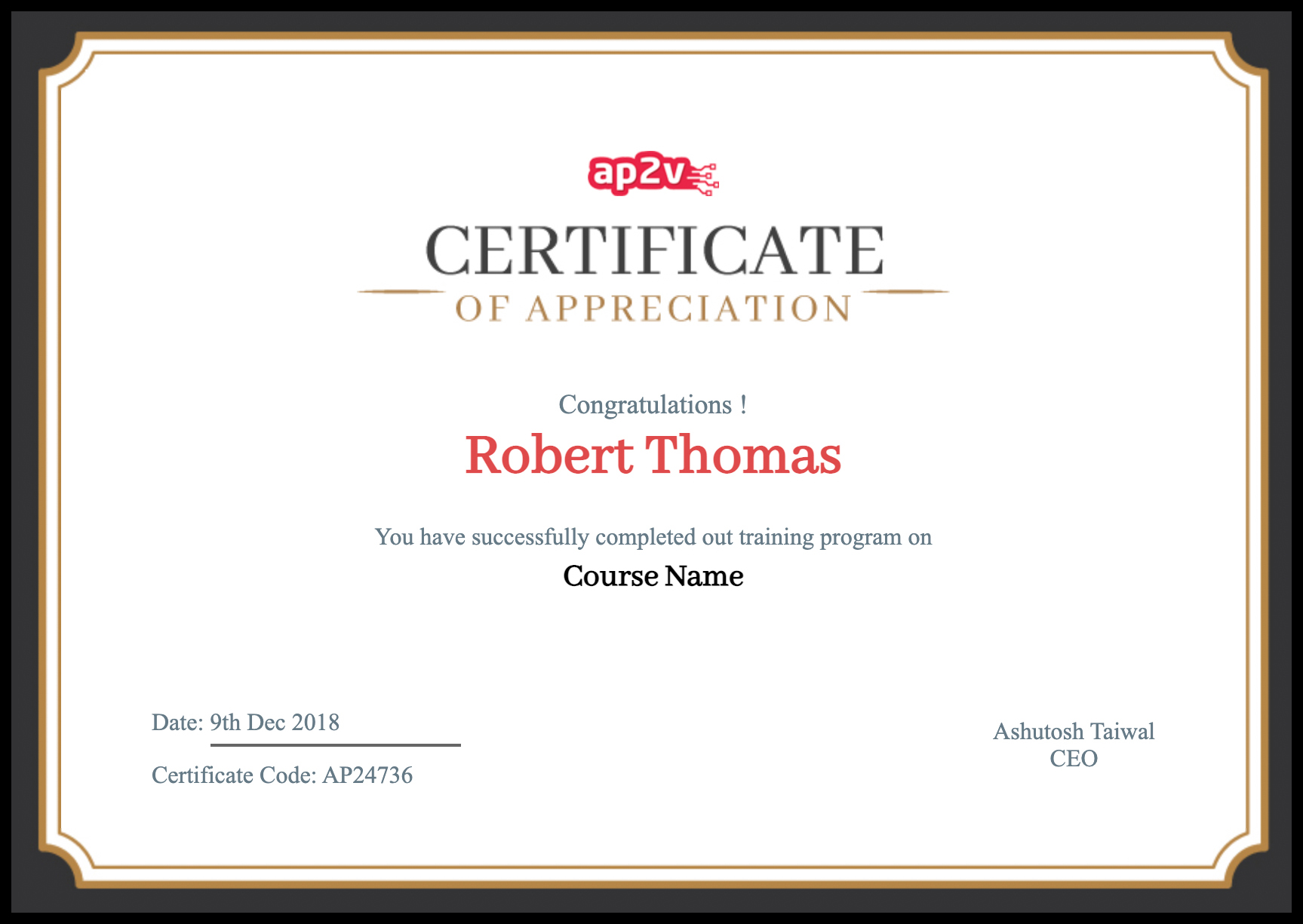 Frequently Asked Questions
One should attend an AWS course training in Faridabad as it is a very useful course to learn. AP2V provides the best training courses in Faridabad in AWS.
The cost of the AWS course in Faridabad is Rs.8-10K
AP2V is a great platform from which one can learn and get an entry-level training certificate in DevOps.
The duration to learn an AWS training course in Faridabad is 30-45 days
AP2V is an elite AWS training Institute in Faridabad that allows the students to work with real-time projects
The requirement to be an AWS course expert is to have a lot of experience with this course and also have the necessary qualifications in computer science or any other related field.
The cost of an advanced AWS course in Faridabad is Rs.8-10K
AP2V is regarded as one of the best institutes to learn AWS courses in India
AP2V is a great training platform for students to learn AWS training in Faridabad.
AWS Training in Faridabad