Skills Covered
Overview
AP2V is ranked one of the Best Python Advanced Institutes in Gurgaon. If you are willing to learn about the computer language in detail then you must take admission under AP2V for enhancing your skills and knowledge.
KEY USPS AND CERTIFICATION DETAIL -
| | |
| --- | --- |
| 1. Gather information about python | AP2V provides the opportunity to the students to explore the features of python and use the institute's resources to gather knowledge about the same. |
| 2. Understand the framework of the subject | To work with python, the students have to learn about the basic framework and various functionalities of the topic with assistance from the AP2V experts. |
| 3. Get the opportunity of jobs in the IT field | The students can gain the opportunity to bag better jobs in the IT field by enhancing their knowledge about python as the most popular computing language. |
Benefits of Python Advance Training Course in Gurgaon
PYTHON ADVANCED FUNDAMENTALS & KEY FEATURES -
AP2V is a well-known Python Advanced Training Institute in Gurgaon that provides the best education to aspiring candidates. The knowledge gained at AP2V will then help them to crack the certification exams. The experts in our institute are learned professionals who share experiences and expertise in their relevant fields.
The members have come together to form an excellent faculty that is keen to provide the best possible training to the candidates. Python Advance Training in Gurgaon like AP2V has the brilliant infrastructure and resources to support the course studies. The students are allowed to work in a highly mechanized lab with excellent facilities. Here they can develop their programs and seek the assistance of the experts to work on the practical application of the topic easily.
Python Advanced Course in Gurgaon is taught best at our institute and we guarantee to create a career path for the students to bag a prospective job in the future. We also provide career counselling sessions to the students who require the help of our faculty team to decide on the best-fit career plan.
PYTHON ADVANCED - COURSE OUTLINE
Python Advanced Coaching in Gurgaon conducted by the experts of AP2V has proven to be fruitful for the students of the fraternity. The organization is well known even among the foreign students who have selected our institute for learning about the advanced technical courses. Python Advanced Classes in Gurgaon held by AP2V not only provide campus education but also initiate classes over the online platforms. Live lectures and interactive sessions are highly appreciated by the aspirants who find it difficult to commute to the campus.
WHO SHOULD ENROLL IN THIS COURSE?
Python Advanced Certification in Gurgaon supplied by AP2V is recognized and acknowledged by famous IT companies. It is through the process of a thorough assessment of skills and theoretical knowledge that the certification is handed over to the pupils. Anyone who desires to learn about the counter language and the application of the same in data science and machine learning should enroll in the institution for our guidance and training.
WHY WILL THIS COURSE CHANGE YOUR CAREER?
The Python Advanced Certification Course in Gurgaon taught by AP2V will surely help you to have a prospective job in the future. The knowledge that you gain here shall help you in the future to solve complex problems and work on artificial intelligence and machine learning application software.
Python Advance Training in Gurgaon under AP2V is affordable for pupils from different walks of life. The Institute focuses on providing quality education to the students without focusing on exacting hefty sums in exchange.
TOP COMPANIES HIRE PYTHON SPECIALISTS
The AP2V students have considered jewels in the job market and famous IT jobs are keen to hire them for their excellence and expertise. Our institute is proud to nurture the mind of the young pupils who will be able to lead the IT world one day.
Upcoming Batches
Jul 02

SAT & SUN Weekend Batch

Filling Fast

Timings - 09:00 AM to 11:00 AM

Jul 16

SAT & SUN (6 WEEKS) Weekend Batch

Timings - 01:00 PM to 03:00 PM

Jul 04

MON & FRI (6 WEEKS)

Filling Fast

Timings - 09:30 AM to 10:30 AM

Jul 18

MON & FRI (6 WEEKS)

Timings - 05:00 PM to 06:00 PM
72% OFF Expires in D H M S

Can't find a batch you were looking for? Contact AP2V Learner Support
Loved reviews? Enquire Now
Structure your learning and get a certificate to prove it
Python Advance Training Course in Gurgaon Curriculum
Course Content
● Course Overview
● What is a Script program?
● Types of Scripts
● Difference between Script and Programming Languages
● Features and Limitation of Scripting
● Types of programming Language Paradigms
● What is Python?
● Why Python?
● Who Uses Python?
● Characteristics of Python
● History of Python
● Install Python IDE | IDE - Sublime Text
● Python Download and Installation on Windows, Linux and Mac
● Execute the Script
● Interactive and Script Mode
● Python File Extensions
● SETTING PATH IN Windows
● Python Comments
● Quit the Python Shell
● Shell as a Simple Calculator
● Quotations in Python
● Python Path Testing
● Joining two lines
● Create "Hello, AP2V Solutions!" program
● Numbers
● Strings
● Tuple
● Lists
● List Indexing and Slicing
● Defining and Accessing Lists
● Splitting and Joining Strings
● List Searching
● Dictionary
● Defining a Dictionary
● Dictionary Lookup and Update
● Checking Keys
● Exercises
● Python Strings
● Concatenation
● Indexing Strings
● Searching Strings
● Slicing Strings
● Formatting Strings
● Concatenation
● Exercises
● Boolean Logic
● Logical Expressions
● Comparisons
● Conditionals
● More conditionals
● Nested conditions
Syllabus
Experience 250+ hours of best-in-class content developed by leading faculty & industry leaders in the form of videos, case studies & projects
Python Advance Training Course in Gurgaon Exam & Certification
Live your dream to be hired by top IT Companies with us, offering an array of professional courses with 100% Job Assistance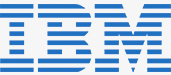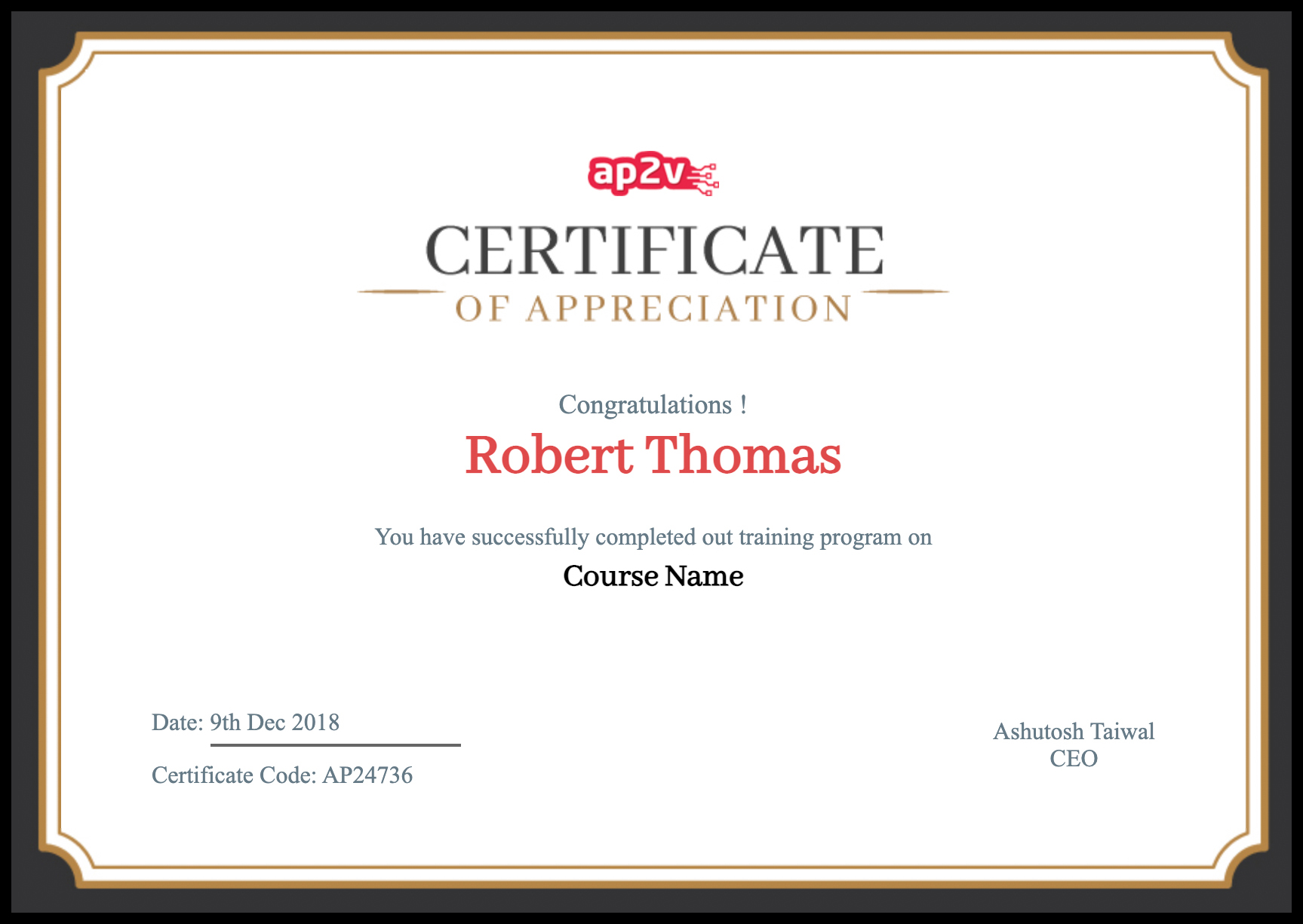 Frequently Asked Questions
AP2V institute based in Gurgaon provides one of the best training courses in Python Advanced.
If you are enrolled under AP2V then the Python Advanced course cost and duration shall be around one thousand rupees for a month.
AP2V is one of the best Python Advanced institutes in the city which provides entry-level certification to the students.
The Python Advanced course in Gurgaon under AP2V shall take about a month to complete.
If you desire to get the practical experience of handling python then you should opt for the training under AP2V which provides an opportunity for the students to work with real-time projects.
To become a Python Advanced expert one needs to crack the certification exam after completion of the course study.
You may have to pay 1000 INR for opting for a Python Advanced course in AP2V at Gurgaon.
AP2V is ranked one of the best institutes for learning about computing courses in India.
To learn about the functionalities of Python Advanced one should opt for a course in AP2V in Gurgaon.
Python Advance Training Course in Gurgaon