Overview
Key USPs and Certification Detail
| | |
| --- | --- |
| Knowledge about AWS | The requirement for jobs in this field includes an experience of at least 6 months with AWS. We at the AWS Cloud Practitioner Training Centre in Mumbaiwork to inculcate theoretical and practical knowledge about the operations of AWS. |
| Professional guidance | Our faculty comprises experienced teachers, each, who have excelled in their respective fields. |
| Vast opportunities | Studying from prestigious institutions like AP2V's AWS Cloud Practitioner Coaching in Mumbai adds benefits while applying for jobs. Also, the opportunities available in this field are limitless. |
Benefits of AWS Cloud Computing Practitioner Course in Mumbai
AWS Cloud Practitioner Fundamentals and Key Features
After the completion of the AWS Cloud Practitioner Certification Course in Mumbai, students will have complete knowledge about the operations and benefits of AWS. They will know about the fundamentals and various other concepts involved in AWS Cloud. They will be able to list all the principles related to Cloud Architecture Design and recognize AWS Cloud Economics' aspects. The students will learn how to assign pricing for AWS by comparing and contrasting prospective prices, methods of developing AWS, the services it provides, technical support needed, and its infrastructure. They will be taught to recognize resources of security control, its management access, and privacy and security concepts.
Our AWS Cloud Practitioner Classes in Mumbai provide online video lectures, practice question sets, and other learning materials to enrolled students. Students can enroll in remote learning as well. Live sessions are conducted online. Doubts and discussions are always encouraged and help trainers to understand your level of thinking. These classes are interactive, so queries can be cleared during the live lectures. We also arrange for backup classes if missed. 
AWS Cloud Practitioner- Course Outline
Students will know how to utilize AWS while maintaining cost efficiency. Our sole aim as a team is to imbibe knowledge in our students. We believe in practice and hence, train students to use the program in our laboratories to test their learning. Our technical infrastructure is built to fulfill the needs and requirements of our students. We enroll fewer students in one batch. This helps professors to give an adequate amount of attention to all. Our faculty consists of expert professors. To ensure that candidates receive the best guidance, we provide special training to our staff. These measures make us the Best AWS Cloud Practitioner Training Institute in Mumbai.
AWS Cloud Practitioner- who should enroll in this course?
Candidates interested in pursuing a career in the IT sector should choose this course. It is a great kickstart to build a career as an IT professional. It is a base-level certification and can prepare you for further advanced levels. This course will help you to build a strong foundation and in-depth knowledge about AWS.  Students preparing for the AWS Cloud Practitioner Certification Exam should enroll for this course at our AWS Cloud Practitioner Centre in Mumbai. Students who want to experience the corporate environment and master the Cloud with perfection should opt for this course.
Why will this course change your career?
AWS Cloud Practitioner Course in Mumbai will help you strengthen your basic skills in using Cloud, so you are well aware before opting for more advanced certifications in the field. This certification will help add extra credits while applying for jobs. Amazon Web Services is a notable company and landing a job in such a name will help increase your exposure and credits for further positions.
This course can help you receive a hike in salary. It increases your credibility and demand for selection over other prospective candidates. A few jobs that you can apply for after receiving an AWS Cloud Practitioner Certification in Mumbaiare SysOps administrator, Cloud developer, AWS Cloud Architect, Cloud DevOps Engineer, Cloud sales and purchase manager, Cloud software engineer, Cloud key account manager, AWS system integrator, AWS Networking specialist, and AWS big data specialist.
Top companies hire AWS Cloud Practitioners
The advancements in the field of technology are increasing and innovations are leading to the emergence of new job titles. The demand for AWS Cloud Practitioners is gaining new heights as their awareness and importance are increasing. Big multinational companies are looking for AWS Cloud practitioners and hiring them as employees. Due to the increase in demand for this skill, many students are swarming in the field and taking up courses to build a career in it. This title can enable you to attain a stable and well-paid job at a position of recognition in India or abroad.
Upcoming Batches
Oct 30

SAT & SUN Weekend Batch

Filling Fast

Timings - 07:00 AM to 09:00 AM

Nov 13

SAT & SUN (6 WEEKS) Weekend Batch

Timings - 08:30 PM to 11:30 PM

Nov 01

MON & FRI (6 WEEKS)

Filling Fast

Timings - 08:30 PM to 11:30 PM

Nov 15

MON & FRI (6 WEEKS)

Timings - 08:30 PM to 11:30 PM
10% OFF Expires in 01 D 13 H 29 M 20

Can't find a batch you were looking for? Contact AP2V Learner Support
Loved reviews? Enquire Now
Structure your learning and get a certificate to prove it
AWS Cloud Computing Practitioner Course Online Curriculum
Requirements
Pre Requirements
None
Course Content
Syllabus
Experience 250+ hours of best-in-class content developed by leading faculty & industry leaders in the form of videos, case studies & projects
Industry Project
Project 1

launch EC2 Instance

Start experimenting with EC2 instance deployment with different O/S flavors like windows, linux etc. EC2 instances are virtual emulations of computer system offering computing power.

Project 2

Deploying DB backend Website

Deploy highly reliable and scalable solutions for you web or database application with elastic load balancer and Auto scaling group services

Project 3

Storage Administration

Exploring cloud storage with aws S3 service and start utilized highly available storage solutions.
AWS Cloud Computing Practitioner Course Online Exam & Certification
Live your dream to be hired by top IT Companies with us, offering an array of professional courses with 100% Job Assistance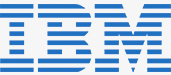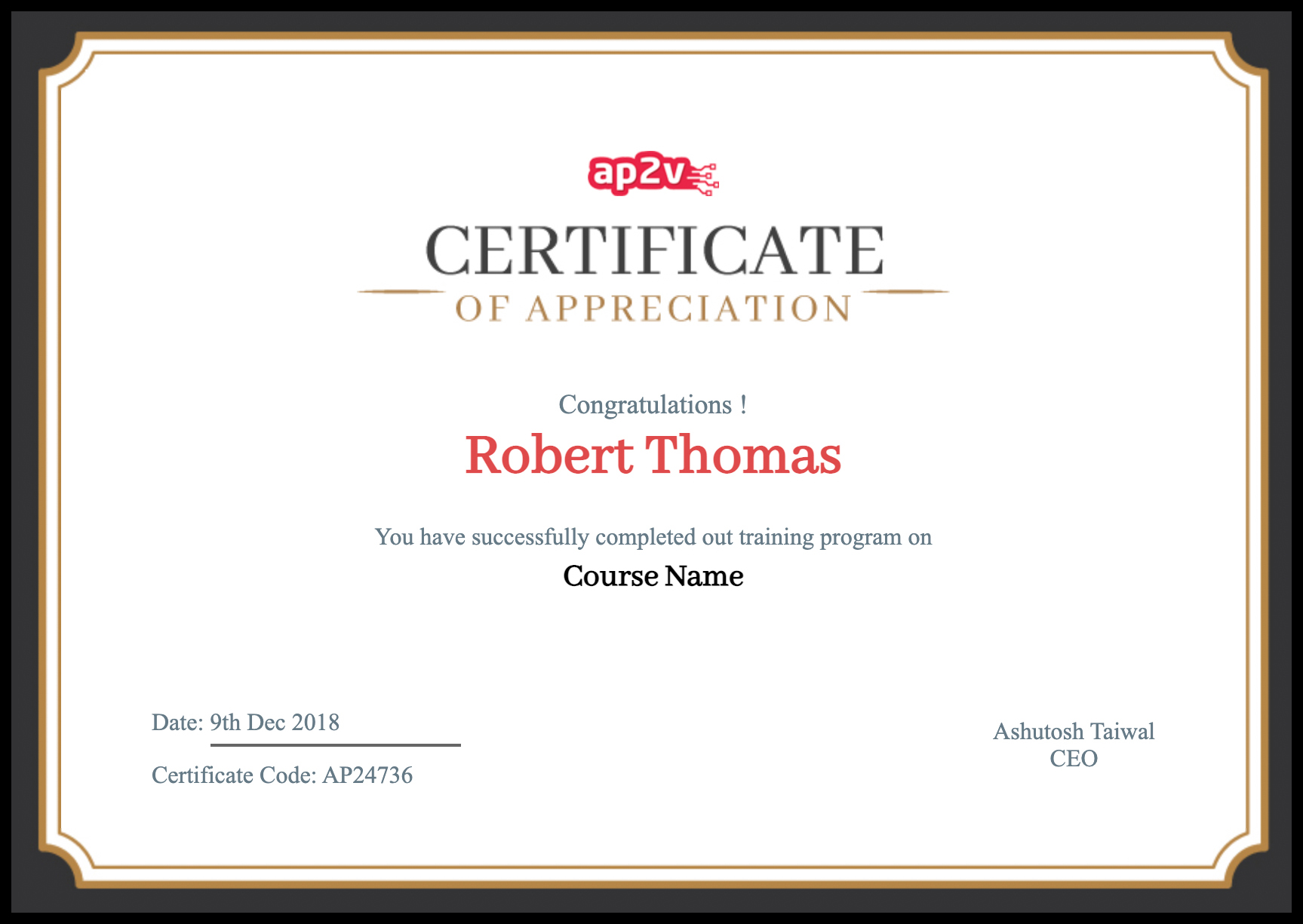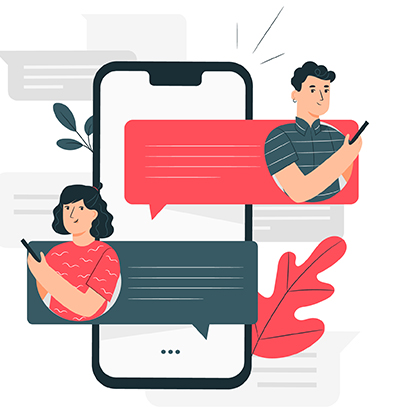 AWS Cloud Computing Practitioner Course Online Reviews
Frequently asked questions
AP2V specializes in providing training to students in the IT field. It has an experience of more than 6 years and our experience speaks for itself.
This course can cost around Rs.19,999/-
Training for this certification course is available at AP2V.
The course takes around 45 days to be completed if collaborating with AP2V.
We believe in training our students to enable them to be the best at what they do. So, they are trained to use the programs on computers and work in a corporate environment.
Along with certification, it is important to have adequate knowledge and work experience of a few years.
It can cost anything between Rs.9,999/-.
AP2V is the best as it works with some of the most experienced teachers in these fields.
This course is available at AP2V.
AWS Cloud Computing Practitioner Course Online